Click here to see larger view
Parent Driving Instructor Mirror:
Licensed Driving Instructors are required by law to have an instructors mirror for their safety, and so should you. The PDI Mirror attaches in seconds to any windshield utilizing three industrial grade suction cups and is easily transferred from vehicle to vehicle. Having a mirror on their side of the car will result in parents driving much more with their new drivers. The mirror will help immensely with lane changes, slowing down in traffic, merging onto freeways and backing out of parking places.
---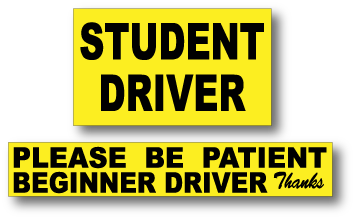 Magnetic Student Driver Signs:
you and your new driver make the most out oHelp f practice time by letting drivers around you know that a Student Driver is at the wheel. People are naturally impatient in traffic but also just as understanding when they see that it is a rookie at the wheel. Whatís more, our Student Driver signs can reduce the risk of having an accident before they even have their license. Click here to see the various magnet designs for all types of cars.
CLICK HERE TO VIEW DIFFERENT
STYLES AND TO BUY
---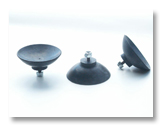 Replacement Suction Cups:
The Parent Driving Instructor Mirror can easily have new suction cups with these three industrial grade cups.
---
Tesimonials of people using our
teaching tools
"We have taught three kids to drive. One without your mirror and helpful DVDs. Most recently taught our twins with your help. So much easier! Thanks Elite".
Jo and Mark Collier
"The book and mag. signs are worth their weight in gold. I haven't yelled at my son in months since cars quit honking at us. I'm pleased with his driving".
Harry Mendoza
"Thanks for all your help. All the information was right on and the extra tools had me driving more with my daughter. Your customer service is top notch".
Linda Mueller