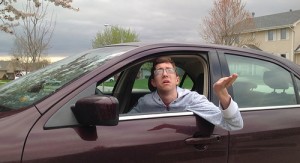 I had an interesting conversation with a 19 year old driving student recently. While I was looking at his permit he said that he was confused and then angry by what was said when the DMV personnel handed him his permit a few days earlier. The man asked my student if he was going to now take his drive test. He responded: "how can I do that I just received my permit to drive?" The answer was "well a lot of people do." My student said "but how would a person know how to drive yet?" The DMV representative explained that people drive illegally with family members and then take their written test and try and pass the drive test the same day. To my 19 yr. old young drivers credit he told him "that is stupid and only because you folks allow it." I agree, so true and so wrong in many ways.
This absurd practice for licensing young adult drivers would explain the rise in death by a few years due to driving. The Graduated Licensing Program instituted years ago by the Department of Transportation does not apply to anyone above 18 years old. Passing the permit test and then having to wait 6 months before taking the drive test does not apply. Having a minimum of 6 hours of behind the wheel training with a driving school does not apply. Putting in an additional 50 hours of driving practice with a licensed 25 years of age or older teacher does not apply. Then the 18, 19, 20, year old takes the Dumber Than a 5th Grader 10 minute drive test to be licensed to drive. This ignorant driver is now licensed to cut me off in traffic, tailgate me up to a red light, not yield to me while entering a roundabout and dent my car as they park next to me at the shopping mall or much much worse.
So much of what is wrong with the way things have become is due to the governmental agencies tasked with making things smart and safe doing just the opposite. Our motivation in producing the high quality 5 Star Driver videos is to push past the cheap driving schools and the D.M.V.," Department of Mental Vacancy" to put parents in charge of their children's driver training. Take the time with your kid's over a sixth month training period, watch the videos together from start to finish. The accelerated learning curve is remarkable! People can listen to the video testimonials on our www.5stardriver.com website of 5 Star Driver users, parents and their kids, to hear real driving success stories. The ultimate goal being to have young adults break through the grim statistics when it comes to their early years of driving. So important at a time when driving has become a greater challenge than ever before.