FRIENDS SPEAK OUT AFTER WOMAN KILLED IN FRESNO CRASH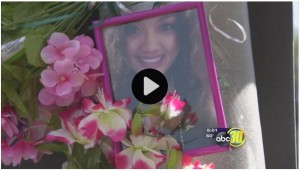 Kelly Phetxoumphone, 23, was a passenger in her friend's car when another car slammed into them at Palm and Ashlan early Sunday, killing her. (KFSN)
Watch local news story here
In the article below you can see that the driver who killed this beautiful young lady ran a red light. A term often used by police is a "dead red" which means it has been red for a long time. Our Creating A 5 Star Driver video series has a lesson on avoiding this type of t-bone crash that is becoming all too common. The lesson is titled Traffic Checking at Green Lights Because People are Running the Reds. It is a valuable lesson filmed in the training car with students demonstrating when to traffic check at all intersections and how that can avoid this type of tragedy.
FRESNO, Calif. (KFSN) —
Kelly Phetxoumphone, 23, was a passenger in her friend's car when another car slammed into them at Palm and Ashlan early Sunday, killing her.
A scene of colorful balloons, pictures and candles sit on the corner where a fun night with friends ended in sirens and Phetxoumphone never making it home.
Sreyjet Choun was driving right behind her sister-in-law and friend that night.
"It's my spring break and I go to UC Irvine so we always hang out together," Choun said. "She was like my sister and it was like the last words she said was come follow us."
They were heading to a friends house when California Highway Patrol officers say 21-year-old Lawrence Walker III didn't stop at the red light.
"I was calling 911 knowing that, I told myself, she'll be fine, she'll be fine but I know she wouldn't because I saw what happened," Choun said. "That guy, he didn't brake at all, he didn't swerve at all. He just went straight."
Another longtime friend, says Kelly's positive attitude and warm smile were her greatest traits. "I still can't believe it," Kelly's friend Solida Lain said. "It feels so unreal. It still hurts, it's really shocking, and tragic."
Kelly worked to support her family at a local restaurant. Now, her boyfriend of eight years is left with four young kids to raise without her.