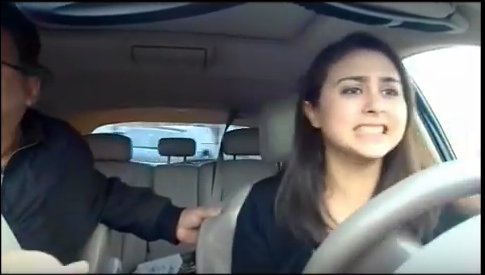 This is the look of stress brought on by parents who often have no idea on how to do real behind the wheel training with their kids. Click on this short video to see what took place between this dad and daughter.
Knowing how to drive and teaching it are two completely different things. The person tasked with teaching a loved one or friend to drive whether it be a parent or grandparent or college roommate has a lot to risk in this endeavor. Their own safety, the safety of the new driver and often times it is their vehicle that is open to damage if things go badly. As a licensed driving instructor I once had a teenager who by the time I was hired to do his behind the wheel training had crashed through his garage door after taking a little drive through their neighborhood with his mom. He then panicked after hitting the garage door and mashed the gas pedal and proceeded to go through the back wall into their kitchen. Nobody drove with the young man for a year. After a year his Uncle said he could get him driving and took a try at it. He crashed into a fire hydrant while making a turn two blocks from their house. Then they decided to hire a professional. Lucky for them they hired an instructor trained in the Cullington Driving Concepts®, which is a new superior way to avoid the pitfalls where parents point out the problem instead of the answer. Look at this cartoon video that is spot on with what has been wrong with our behind the wheel training since the beginning.
When teaching someone to drive, mentioning where you don't want them to take the car is the biggest mistake. By saying, "You're heading towards the only other car in the parking lot" you focus the driver's eyes and or attention on that object and many times this is how the unhappy episode begins. Our www.5StarDriver.com program has eleven hours of video showing all types of driving situations with new drivers using effective dialogue and instructions that guarantees accelerated success. This results in less frustration and stress between the behind the wheel student and teacher. Here is a clip of proper dialogue that works.
The Creating A 5 Star Driver Beyond Drivers Ed® program is the most effective video driver training available for parents and their new drivers. It was developed to get parents much more involved in the important task of behind the wheel training with their kid's. The experts @ 5 Star Driver were tired of the never ending statistics of young drivers passing a 10 minute drive test and soon becoming a driving statistic. Parents have put too much faith in cheap driving schools that don't teach much. Parents also have good intentions on getting in the needed practice time with their children but most often do not. They hope that their kids will be ok out there. At the end they think, well they passed the drive test they must be ready. Parents must know that the DMV drive test has been reduced to a lame example of a person's true driving ability. Please know my own two children on their drive tests were never asked to make a lane change, didn't show that they could do a U-turn or never even had to do a 3 point turn. My son made only right turns on his 8 minute drive route. My daughter was angry how easy her drive test was. She knew I had trained her to be a 5 Star Driver and was wanting a real drive test. Parents please get serious about your children's behind the wheel training.